Resources
We know it's a big decision to install central air in your home. We can help.
Why SpacePak?
If you think SpacePak might be a good fit for you, this collection of resources explains the nitty-gritty details of how SpacePak works.
Browse our Brochures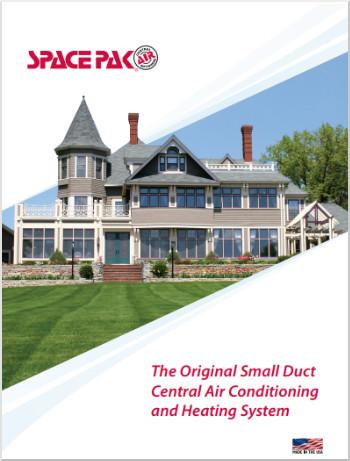 The Original Small Duct High Velocity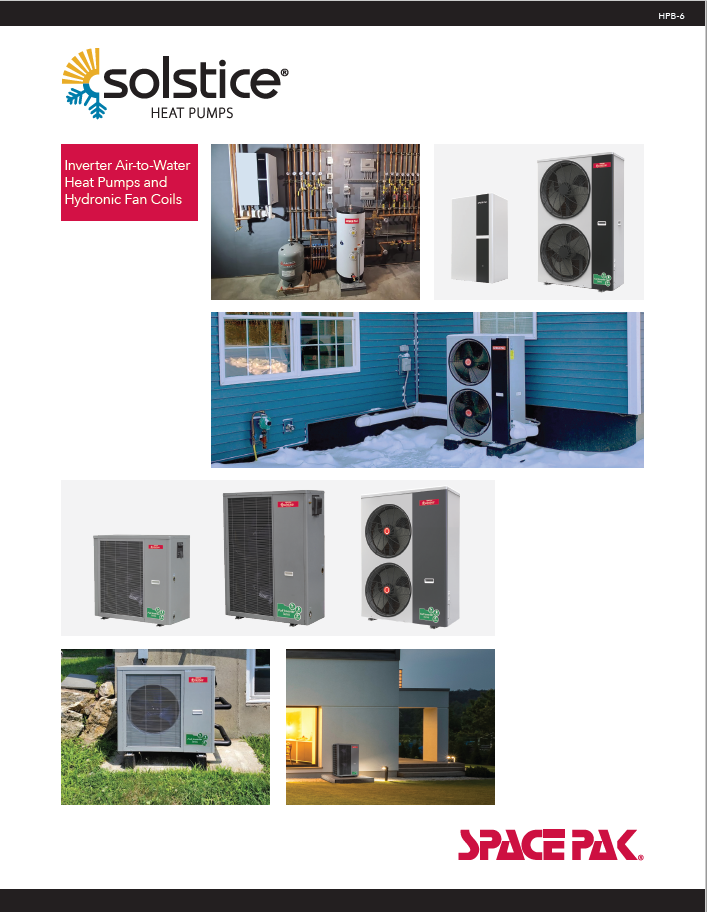 Solstice Heat Pumps Brochure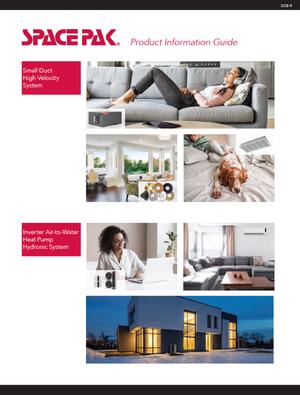 SpacePak All Products Brochure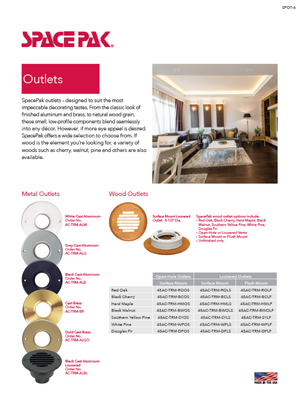 Outlet Brochure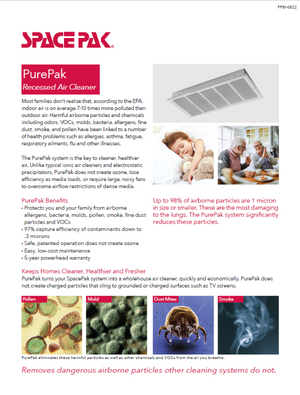 PurePak Brochure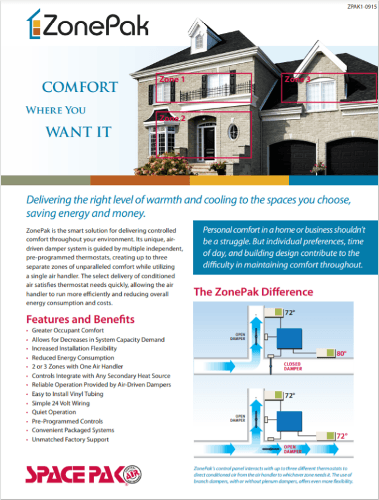 ZonePak Brochure
Case Studies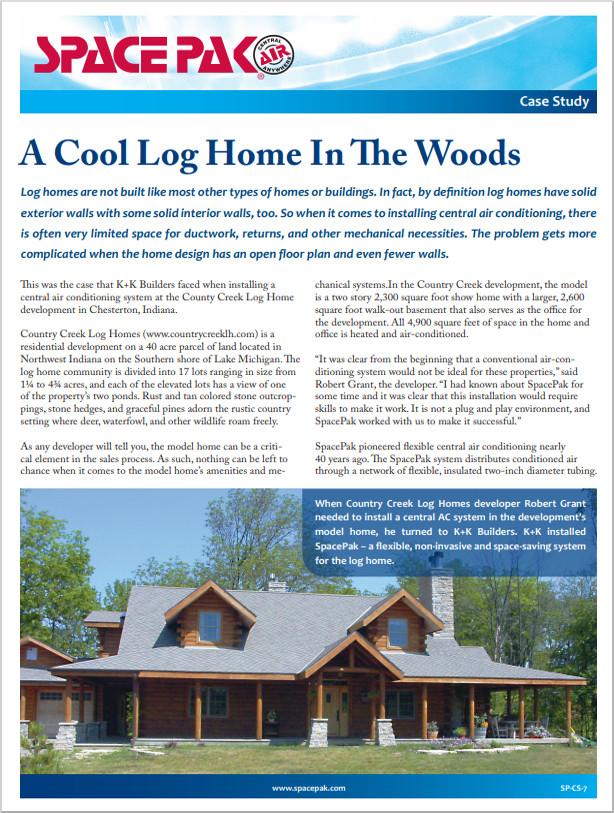 A Cool Log Home in the Woods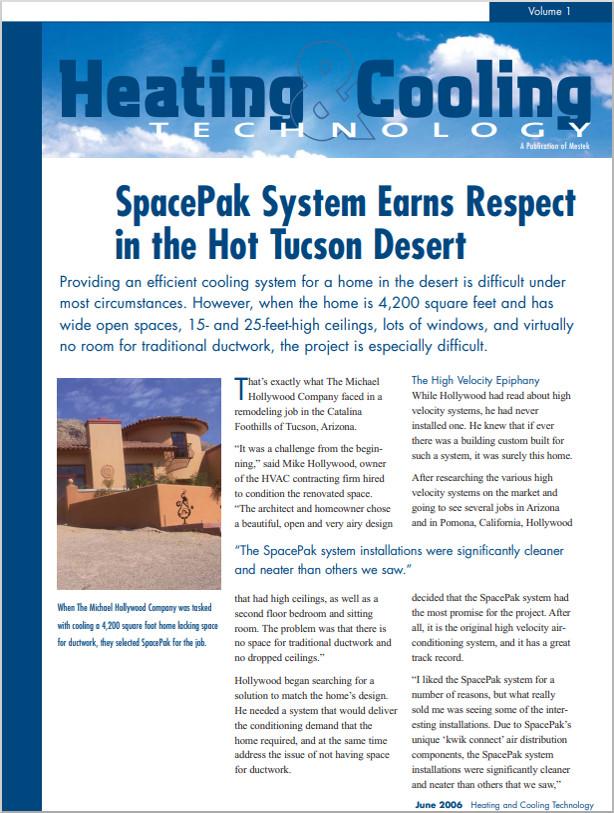 SpacePak System Earns Respect in the Hot Tucson Desert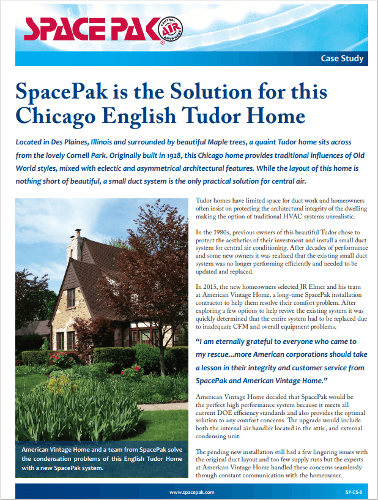 SpacePak is the Solution for this Chicago English Tudor Home (project by American Vintage Home)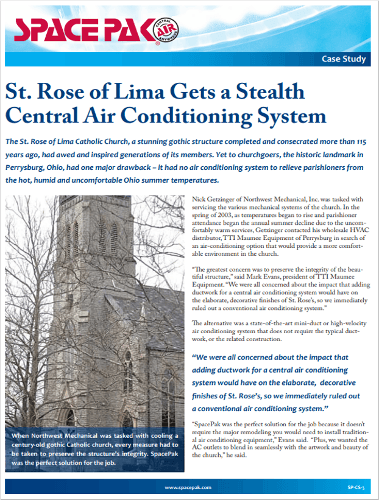 St. Rose of Lima Gets a Stealth Central Air Conditioning System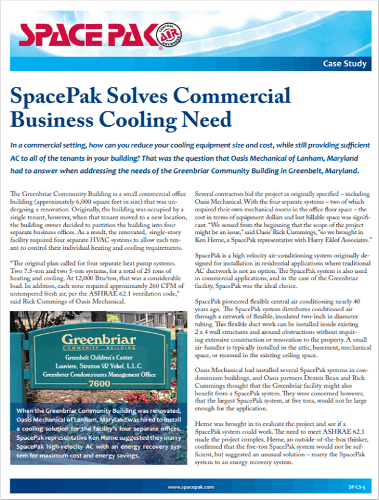 SpacePak Solves Commercial Business Cooling Need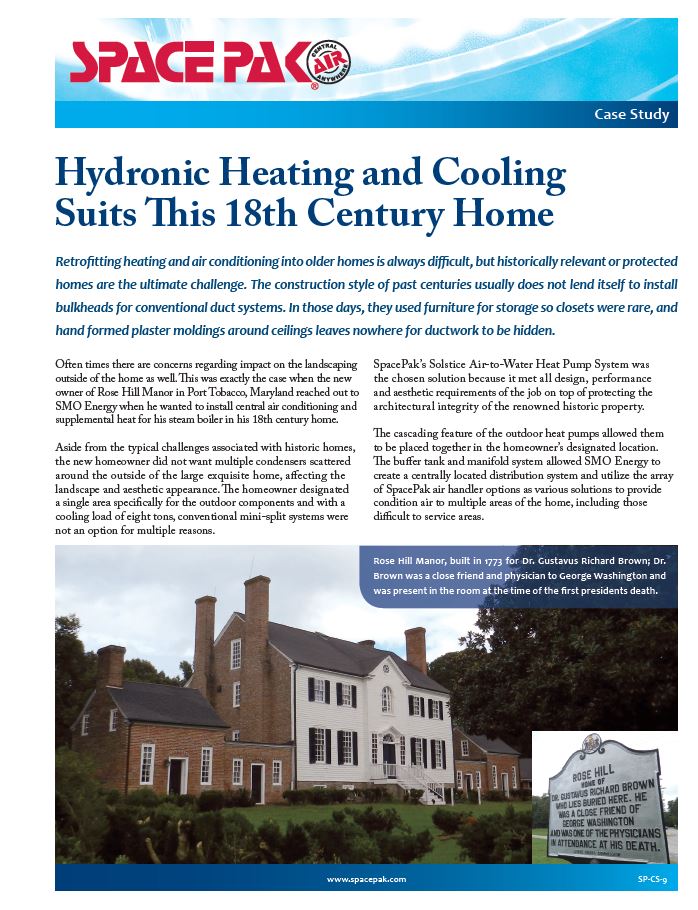 Hydronic Heating and Cooling Suits THis 18th Century Home
What is the SpacePak Small Duct High Velocity (SDHV) central heating and cooling system?

SpacePak Heating and Air Conditioning systems are Small Duct High Velocity central comfort systems that are ideal for buildings, or homes that are hard to cool, or heat. Structures with unique construction, limited mechanical space or homes heated by hot water, steam, or radiant heat are all ideal applications. SpacePak's small, flexible duct runs make even the toughest jobs possible. SpacePak is also very efficient when compared to conventional air conditioning systems. SpacePak reduces the amount of humidity by an additional 30% over conventional systems making it very cost effective and comfortable.

SpacePak strongly recommends that our systems are installed by heating and air conditioning professionals familiar with SpacePak installation and local code requirements.

How do I get a quote on a SpacePak system for my house, or building?

You can click on the "Find A Certified Contractor" tab and submit the form provided. You can also call 800-465-8558 which will direct you to your local authorized SpacePak Representative who will be able to answer any questions you may have and put you in touch with a SpacePak Certified Contractor in your local area.

How can I buy SpacePak equipment?

SpacePak is sold to installing contractors by stocking HVAC distributors throughout the country. SpacePak strongly recommends that our systems be installed by heating and air conditioning professionals familiar with SpacePak installation and local code requirements. The stocking HVAC distributors only sell to professional contractors.

Does SpacePak work with heat pumps?

Yes… all SpacePak DX fan coils are manufactured so that they can operate hand-in-hand with a Heat Pump outdoor unit.

What is SpacePak's warranty?

SpacePak warrants the original homeowner a standard one (1) year warranty from the startup or a five (5) year extended warranty for systems installed by a Certified SpacePak Contractor currently registered with SpacePak

Will SpacePak work with a geothermal system?

Yes… SpacePak also offers chilled water coils for Geothermal projects.

Can I heat with SpacePak?

Yes… SpacePak DX Air Handlers are all Heat Pump compatible. We also have both Hot Water heating coils and Electric heating coils for use with our system. In fact, using your SpacePak system with a hot water coil works really well as a supplemental heating system when the house is primarily heated with a radiant system. A Certified Contractor can help you determine the best heating option for your area.

How much does a SpacePak system cost?

It's very difficult to accurately "guesstimate" what an installed system will cost. SpacePak installed costs vary widely because a good deal of the total cost is created by the labor required to install the system. Labor costs are impossible to calculate without actually seeing the home. Pricing for new construction homes will vary from older homes that need to be retrofitted. The best way to determine system cost is to have a Certified Contractor visit your home and provide a total installed quote

What Size SpacePak system will I need?

System sizing depends on the location of your home, construction quality, insulation values, windows and amount of southern exposure. A Certified Contractor will perform a room by room load calculation to determine the number of Tons required to cool, or the number of BTU's required to heat your home.

Can Small Duct High Velocity air systems be zoned?

Refrigerated Central Air Conditioning is often zoned to keep the purchase and running costs to a minimum. Typically, the house is zoned according to the families' lifestyle. Zoning works by using a series of specialized dampers within the SpacePak's small, flexible hose ductwork to direct the flow of air through the ducting system to one area or another, depending on cooling (or heating) requirement.
Finding a Certified Contractor
Maintenance & Supplies
Already own a SpacePak system? These resources will help you maintain your system.
Looking for outlet plugs for winter or need to buy new PurePak filters? You can purchase all of this and more directly from us. Browse our
store
for all things SpacePak.
Warranty
Learn more about the warranty available on your SpacePak system.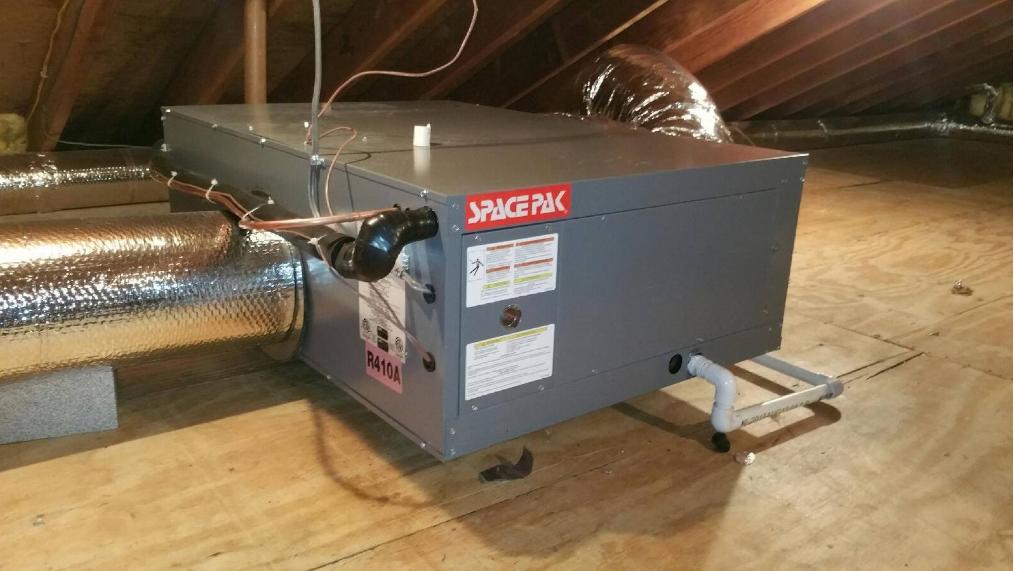 If your SpacePak system was installed by a factory-trained Certified Contractor currently registered with SpacePak, an extended 5 year warranty is available to you. Read up on your SpacePak warranty here and check our
Certified Contractor
Map to see if your installer is registered.
Download Warranty
Recent News
News bulletins and press releases from SpacePak.