We're hard at work updating our website to support our increasingly popular and growing hydronic product offering.

Check out the recent updates below, and be sure to come back soon for more new content on its way.

For all inquiries, contact your local SpacePak Representative.
Contact
SpacePak, Hydronics, &
Air-to-Water Heat Pumps
In addition to being the innovator of small duct high velocity systems, SpacePak is also the industry leader in air-to-water heat pump technology since we first introduced the modern hydronic solution to the North American market back in 2011.
Thanks to our parent company Mestek and its 75 year-long history as a leader in hydronic heating and cooling, SpacePak has found itself uniquely qualified to provide the levels of training and support required for us to be the driving force behind the adoption of this exciting and promising technology.
With thousands of rock-solid installations across the US and Canada, we've taken our original Solstice heat pump technology that's proven itself in the field over the last decade, and upgraded our product offering with the inclusion of the latest innovations in inverter technology.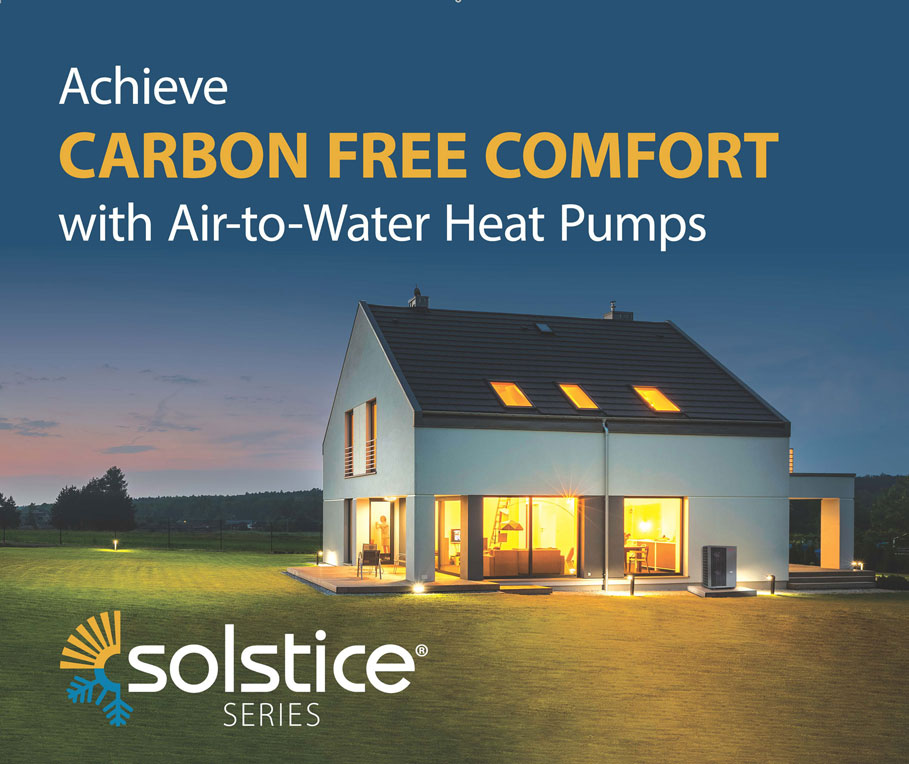 Hydronic Heating & Cooling
with Air-to-Water Heat Pumps
Environmentally friendly heating and cooling for residential and light commercial settings
The physics that make water ideal for conveying heat also make it ideal for cooling
All the advantages of a hydronic (water) distribution system without the use of fossil fuels
Combines the performance of modern air-source heat pump technology with the unsurpassed comfort of hydronics
30% more efficient than traditional air-source heat pumps
Energy savings up to 47% greater than a typical high efficiency natural gas condensing boiler
Up to 70% less electricity use than electric baseboard
Basic Hydronic System Layout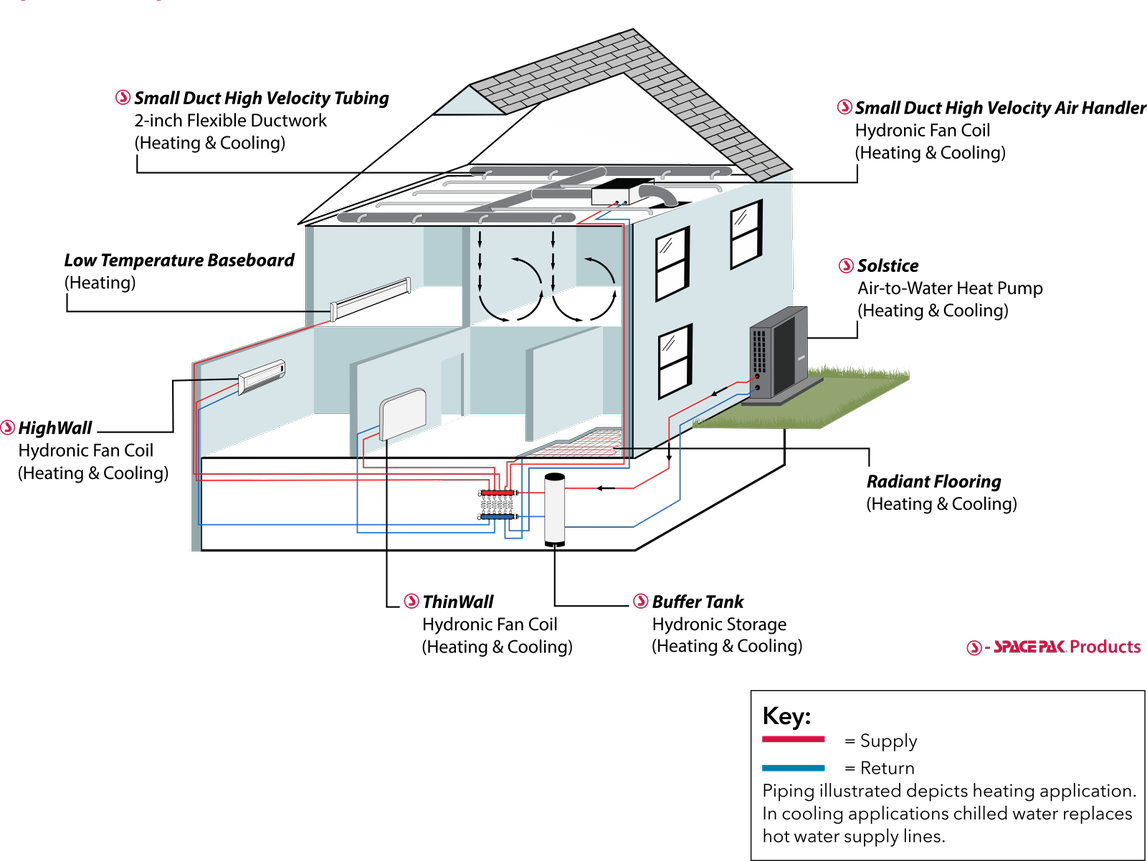 The graphic reflects the design flexibility afforded with air-to-water heat pumps and the diverse array of hydronic emitters available to choose from for operation in a modern hydronic low temperature system.
SpacePak Hydronic Fan Coil Options
Low Temperature HighWall
Low Temperature ThinWall
Small Duct High Velocity Hydronic Air Handler
Third Party Emitter Options
Radiant Panels (Floors, Ceilings, Walls)
Low Temperature Hydronic Baseboard
Panel Radiators (not represented in graphic)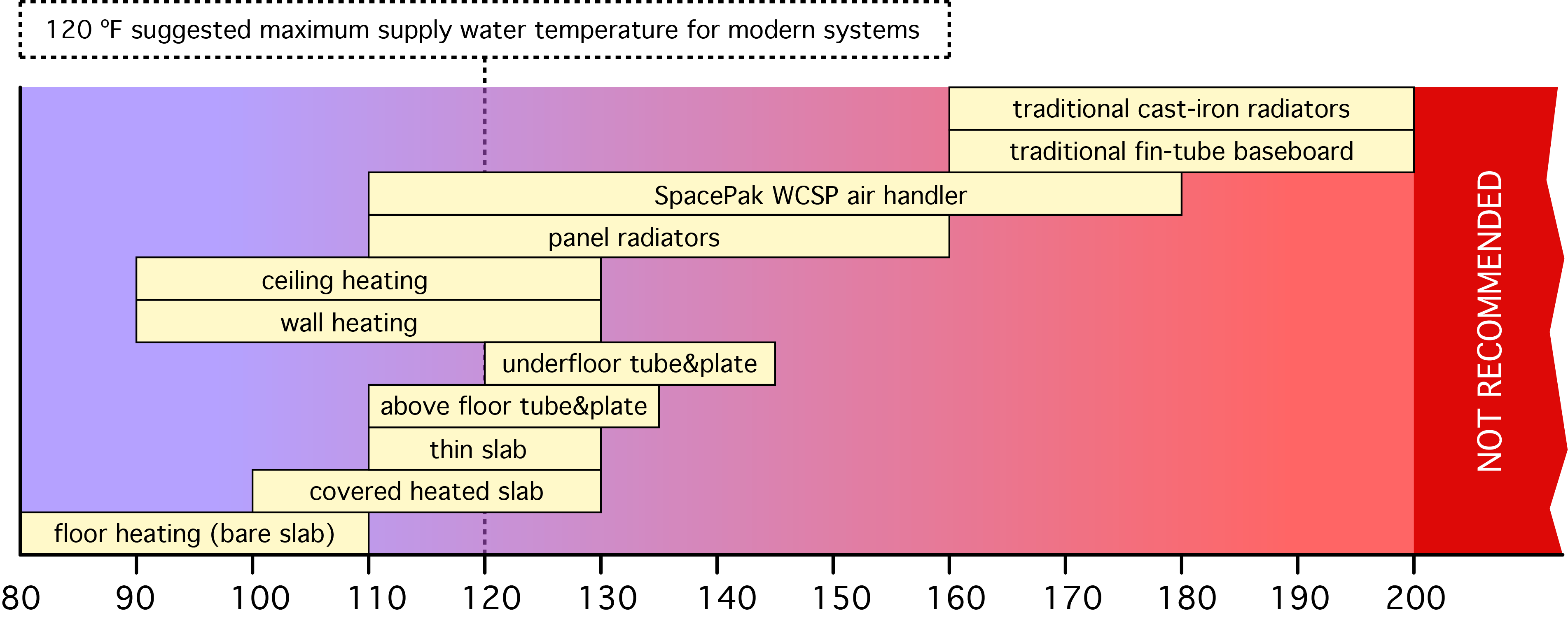 Solstice Heat Pumps
Industry Leading Air-to-Water Technology
Industry Proven Technology for Reliability, Performance, & Longevity
High COP hydronic heat pumps that supply low temperature water for heating & chilled water for cooling
Thousands of installations across the US and Cananda
Industry proven Solstice technology
Eligible for rebates!
Extended warranty for SpacePak Certified Contractors:

Industry leading 10-year compressor warranty
5-year parts warranty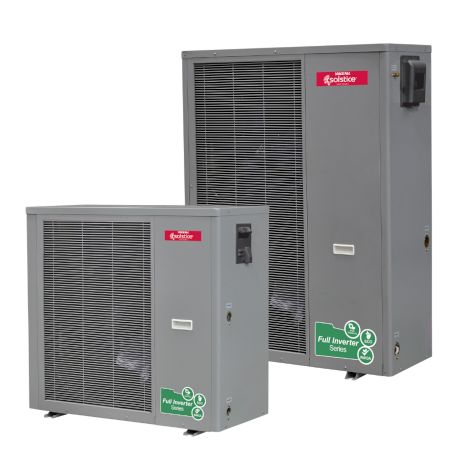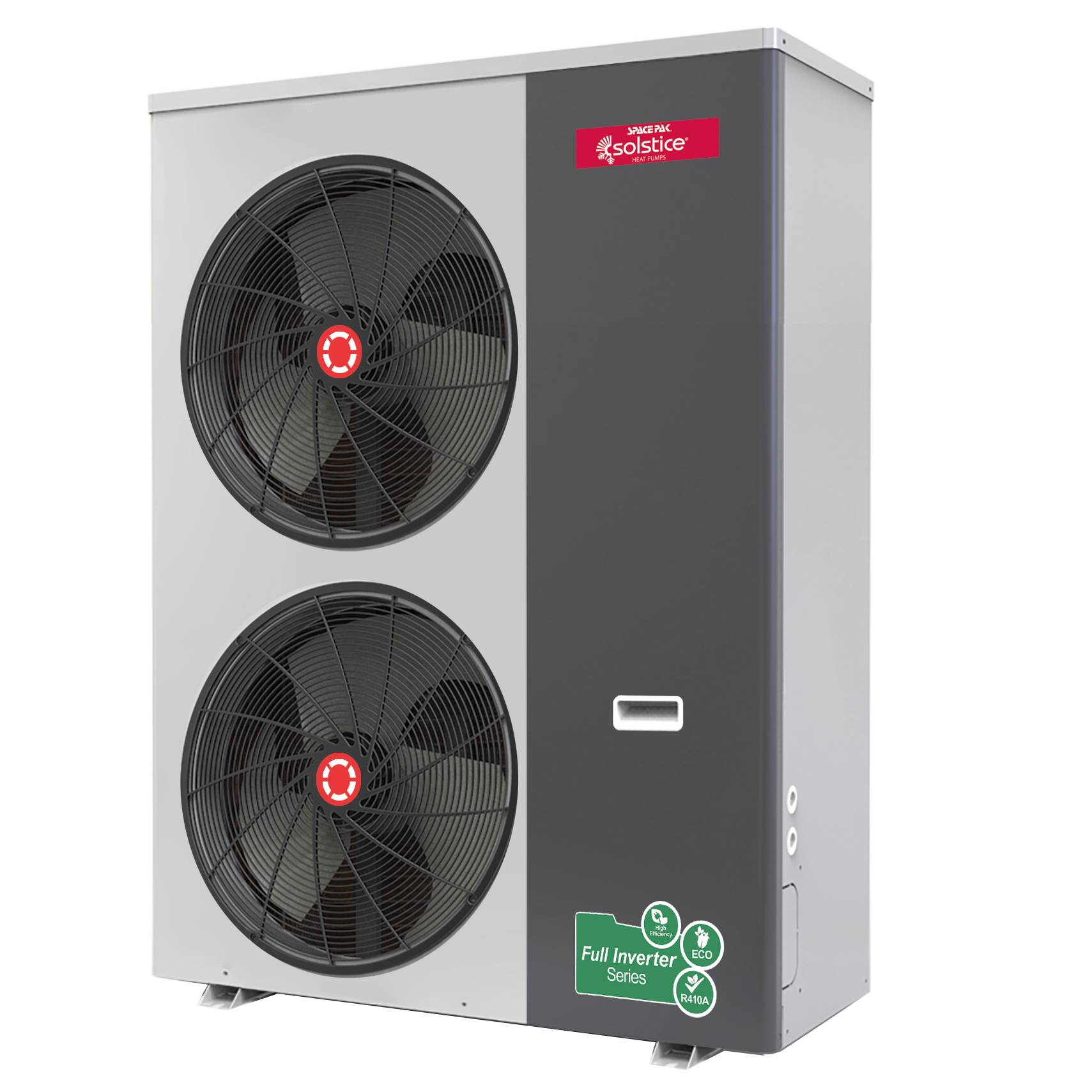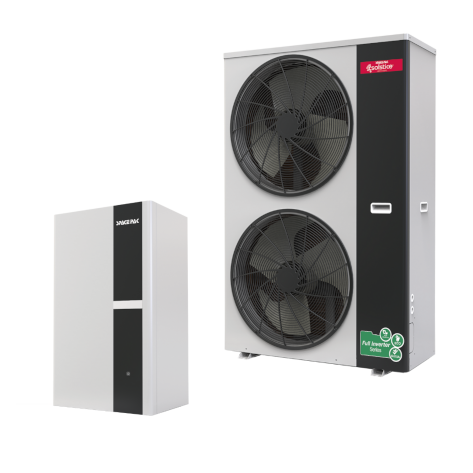 Solstice Inverter Monobloc
Air-to-Water Heat Pump
The Solstice Inverter Monobloc (SIM) air-to-water heat pump uses inverter compressors and DC driven fan motors for optimal load matching and has an advanced touch screen control for easy user interface.
Keeps all refrigerant conveniently located outside the home and is capable of low ambient cooling.
Available in 3 and 5 ton models.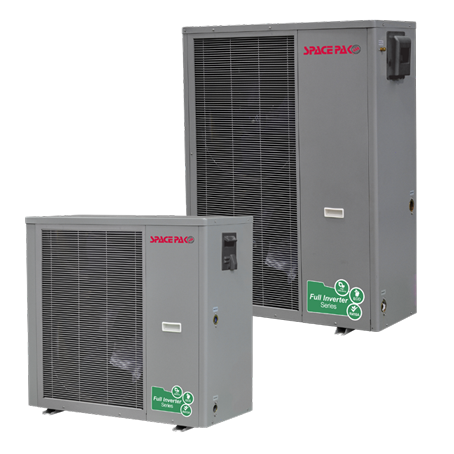 Standard Features & Benefits
Industry Proven Solstice Technology
Reliable Mitsubishi Inverter Compressor
Monobloc Design (No On-Site Refrigerant Charging)
Keeps All Refrigerant Outside the Occupied Space
Low Ambient Cooling
Domestic Hot Water Offset
Freeze Protection
Low Amp Draw with Ultra Quiet Operation
User Friendly Touch Screen Control
Precision Temperature Control Platform
DC Driven Fan Motors
No Refrigeration License Required During Installation (in most states)
SIM-036 (3 ton)
Heating Capacity Range: 13,200 - 38,700 Btu/h*
Cooling Capacity Range: 1 – 3 tons*
COPs: up to 5.01*
EER: up to 12.97*
SIM-060 (5 ton)
Heating Capacity Range: 25,400 – 70,600 Btu/h*
Cooling Capacity Range: 1.5 – 5 tons*
COPs: up to 4.67*
EER: up to 11.60*
*Using AHRI 550/590 Test Criteria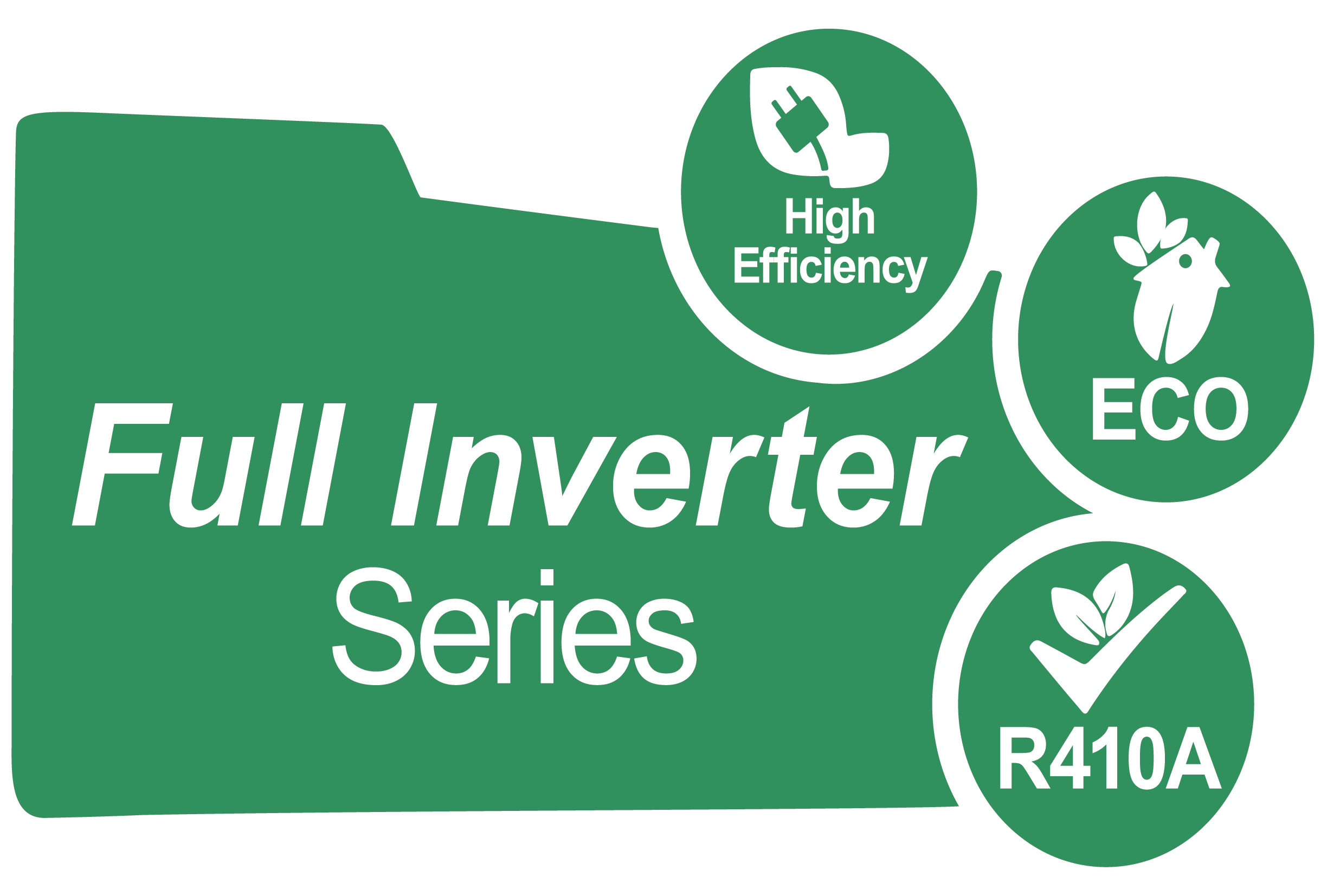 Solstice Inverter Split
Air-to-Water Heat Pump
The Solstice Inverter Split (SIS) air-to-water heat pump is capable of high performance in heating mode at low ambient temperatures.
Its' split-type construction provides installers with the flexibility to reduce the use of glycol in the hydronic loop and the convenience of simple piping similar to typical residential wall-hung boilers.
Available in 5 ton model.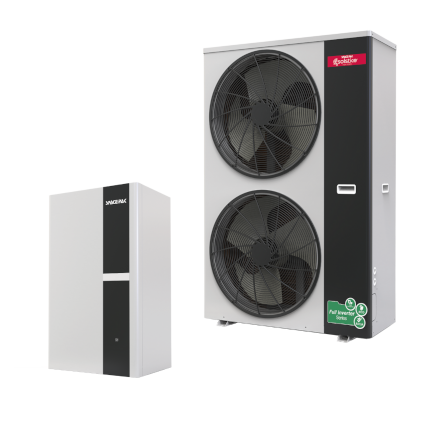 Standard Features & Benefits
Industry Proven Solstice Technology
Reliable Panasonic EVI Inverter Compressor
Extreme Low Ambient Heating Performance to -20°F
Split Design Provides the Flexibility to Reduce the Use of Glycol in the Hydronic Loop
Simple Indoor Piping Similar to Wall Hung Boilers
SIS System Includes both Indoor and Outdoor Units, Refrigerant Line Set (35'), and Control Wire (50')
Freeze Protection
Low Amp Draw with Ultra Quiet Operation
User Friendly Touch Screen Control
Precision Temperature Control Platform
DC Driven Fan Motors & EC Modulating Fans
SIS-060A4 (5 ton)
Heating Capacity Range: 20,500 - 71,500 Btu/h*
Cooling Capacity Range: 2.5 - 5.2 tons*
COPs: up to 3.09*
EER: up to 12.5*
*Using AHRI 550/590 Test Criteria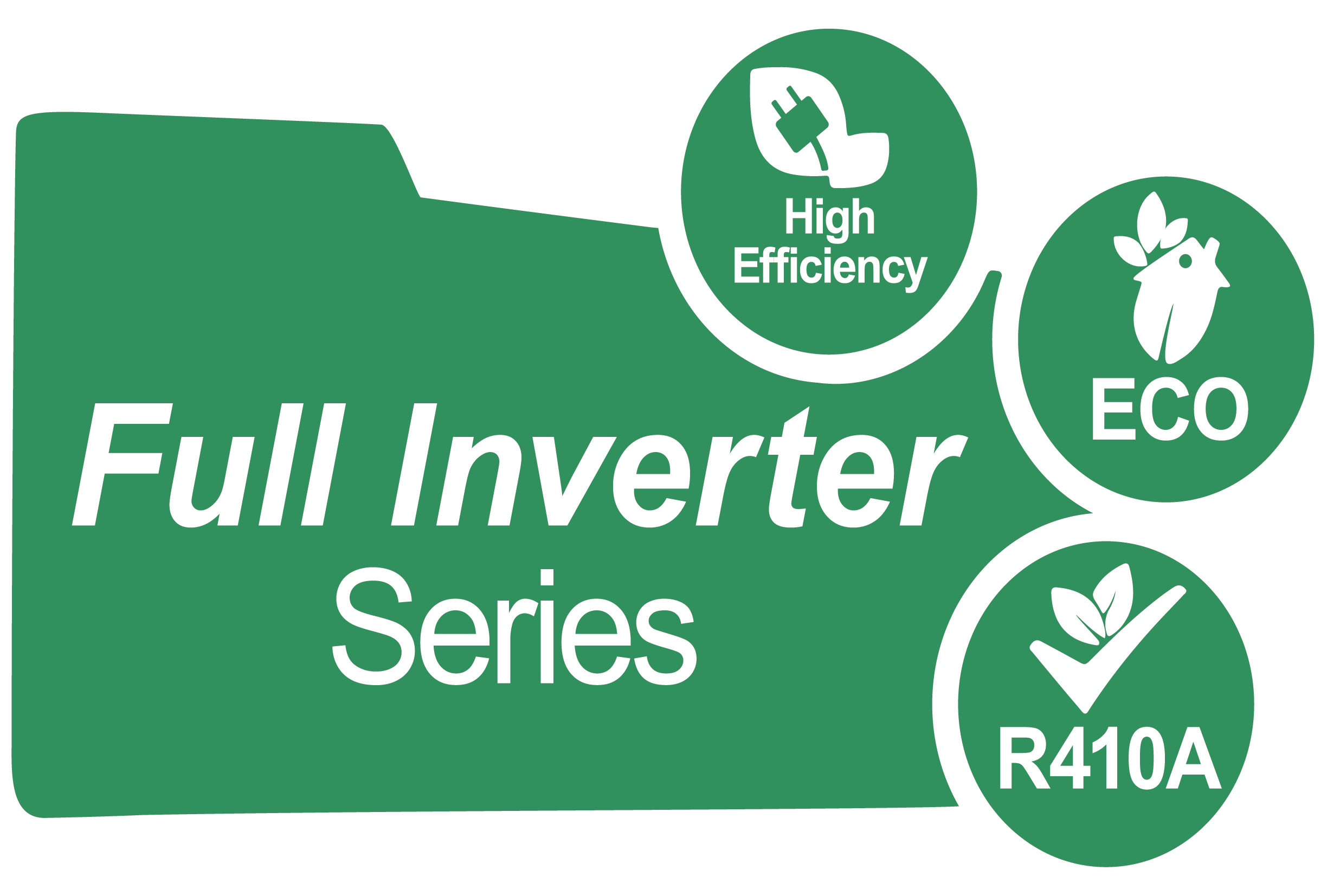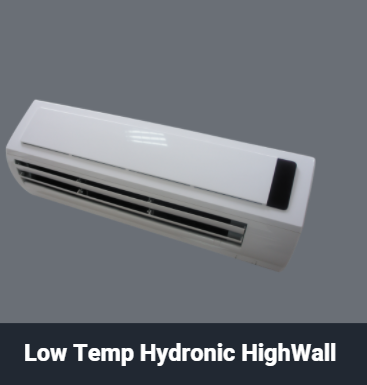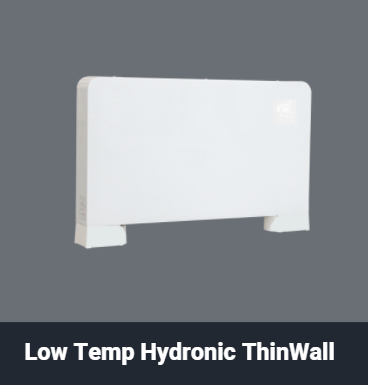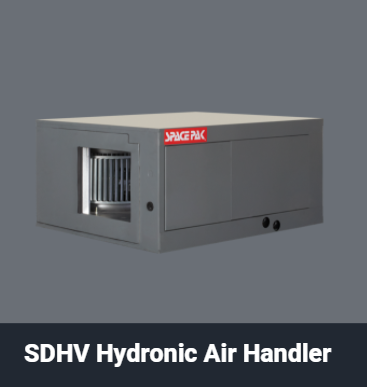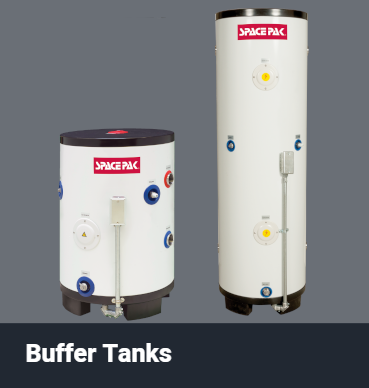 Better than Geothermal
Air-to-Water
Up to 30%-50% lower installation cost when compared against Geothermal systems.
Little-to-no outdoor excavation needed.
Low Amp Requirements
Keeps refrigerant outside the home and utilizes a condenser coil that is 30% larger than standard units, improving efficiency.
Allows custom control not obtainable by most traditional refrigerant-based systems.
Utilizes adjustable water flow, water temperature, and airflow settings, giving you complete control of the system and each temperature zone.
Features an intelligent factory-configured control platform, with a self-diagnostic microprocessor that keeps your system running seamlessly.
Geothermal
Water-to-water heat pumps, or geothermal heat-pumps, work by installing multiple "earth loops," or water lines, throughout your front yard.
Expensive to install, especially if vertical bore holes are required for the earth loop, or if you're connecting multiple earth loops to the heat pump.
Most water-to-water heat pumps can only heat your home, but have limited cooling capabilities.
Horizontal earth loops require large land areas and major excavation, and most jobs require re-landscaping your yard.
Depending on your region, drilling may be necessary for installation.
While most geothermal heat pumps claim to be highly efficient, this usually doesn't include the power required to move flow through the earth loop, which can be substantial.
Case Studies
A Compact Design
The historic First Presbyterian Church of Lancaster, PA needed to replace two 50 ton chillers. Limited area surrounding the building presented extreme challenges in getting a large unit to the roof. Instead of renting a crane and shutting a street down, the Solstice's compact design made it possible to take the 21 Solstice SE Heat Pumps up the church's elevator to the roof and provide the 105 tons of heating and cooling demanded.
-J & G Heating and Air Conditioning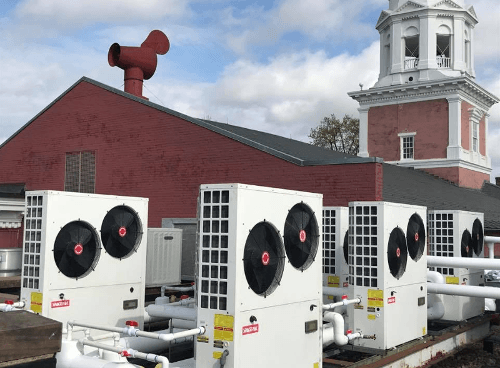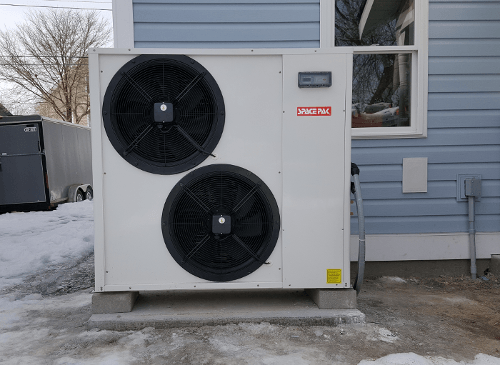 Creating an Affordable, Energy Efficient Home with Habitat for Humanity
This year, SpacePak teamed up with the Rutland, Vermont chapter of Habitat for Humanity in support of their most recent project to build a new and highly energy efficient home for a family in need of affordable housing. Efficiency Vermont, the state's objective advisor on saving energy through efficiency, identified SpacePak's cold-climate-tested air-to-water heat pump as the ideal solution to deliver affordable heat energy to the home's hydronic heating system. The house was also equipped with radiant tubing in a concrete slab on the first floor, and baseboard tubing on the second floor. The system consists of two zones, each controlled by a separate thermostat on each floor, allowing the family to program the home's temperature settings and further reduce their utility bills.