Solstice Inverter Extreme
Solstice Inverter Extreme
Air-to-Water Heat Pump
The Solstice Inverter Extreme is the latest addition to our Inverter Series line of Solstice Heat Pumps, giving us the broadest line-up of air-to-water heat pumps on the market.
Our original "Solstice Extreme" was the winner of the 2019 Energy Star Emerging Technology Award, and predecessor to the now available "Solstice Inverter Extreme".
The Solstice Inverter Extreme is a "cold climate" air-source heat pump for hydronic heating, cooling, and domestic hot water applications, and is capable of high performance heating operation in outdoor temperatures as low as -22°F, and can deliver reliable water temperatures as high as 130°F.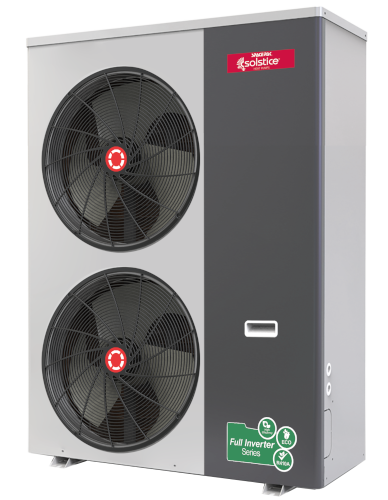 Hydronic Heating & Cooling
for High Performance Homes
While most North American households have settled for ducted forced-air systems or ductless mini-splits due to their ability to provide both cooling and heating, informed and discerning homeowners have always, and will always, choose hydronic systems for their unsurpassed comfort and efficiency.
The air-to-water solution is a modern luxury; no compromise, no sacrifice, and no fossil-fuels. A Solstice air-to-water system is the all-in-one, all-electric, whole house solution for your hydronic heating, forced-air cooling, and even your domestic hot water needs. And thanks to modern heat pump technology, our Solstice Inverter Extreme is fit for even the coldest of climates.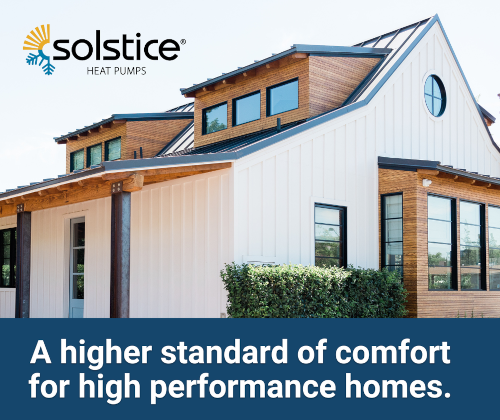 Standard Features
Supplies Low Temperature Water for Heating & Chilled Water for Cooling
Reliable Toshiba EVI Inverter Compressor
High Performance Heating in Cold Climates Extremes Down to -22°F
42-130°F Delivered Water Temperatures (Controls on Supply)
Available in 4-ton model
Domestic Hot Water Offset
Monobloc Design (No On-Site Refrigerant Charging)
Keeps All Refrigerant Outside the Occupied Space
Freeze Protection
Low Amp Draw with Ultra Quiet Operation
Modbus Compatible
User Friendly Advanced Color Touch Screen Control
Precision Temperature Control Platform
Inverter Driven Fan Motors
Advanced Internal Controls
The Solstice Inverter Extreme (ILAHP48) has an advanced, user-friendly, intelligent built-in internal control where unit function is managed by a parametric microprocessor allowing on site adjustment to match specific operating requirements.
The remote touchscreen display is the Operation and Service interface to the ILAHP control, which allows the user to query the operating status of multiple system characteristics, as well as provides the ability to view and adjust operating parameters through various menu screens.
Features Include
Full Color Touch Screen Display
(24ga shielded 5 wire. Can be remote mounted up to 600ft)
Outdoor Air Reset
Field Adjustable Intelligent Defrost Logic
Multi-stage Back-up Heat Control
Variable speed inverter control of the compressor and fans for precise load matching and optimal efficiency
Modbus Compatibility
System Monitoring
Fault Logging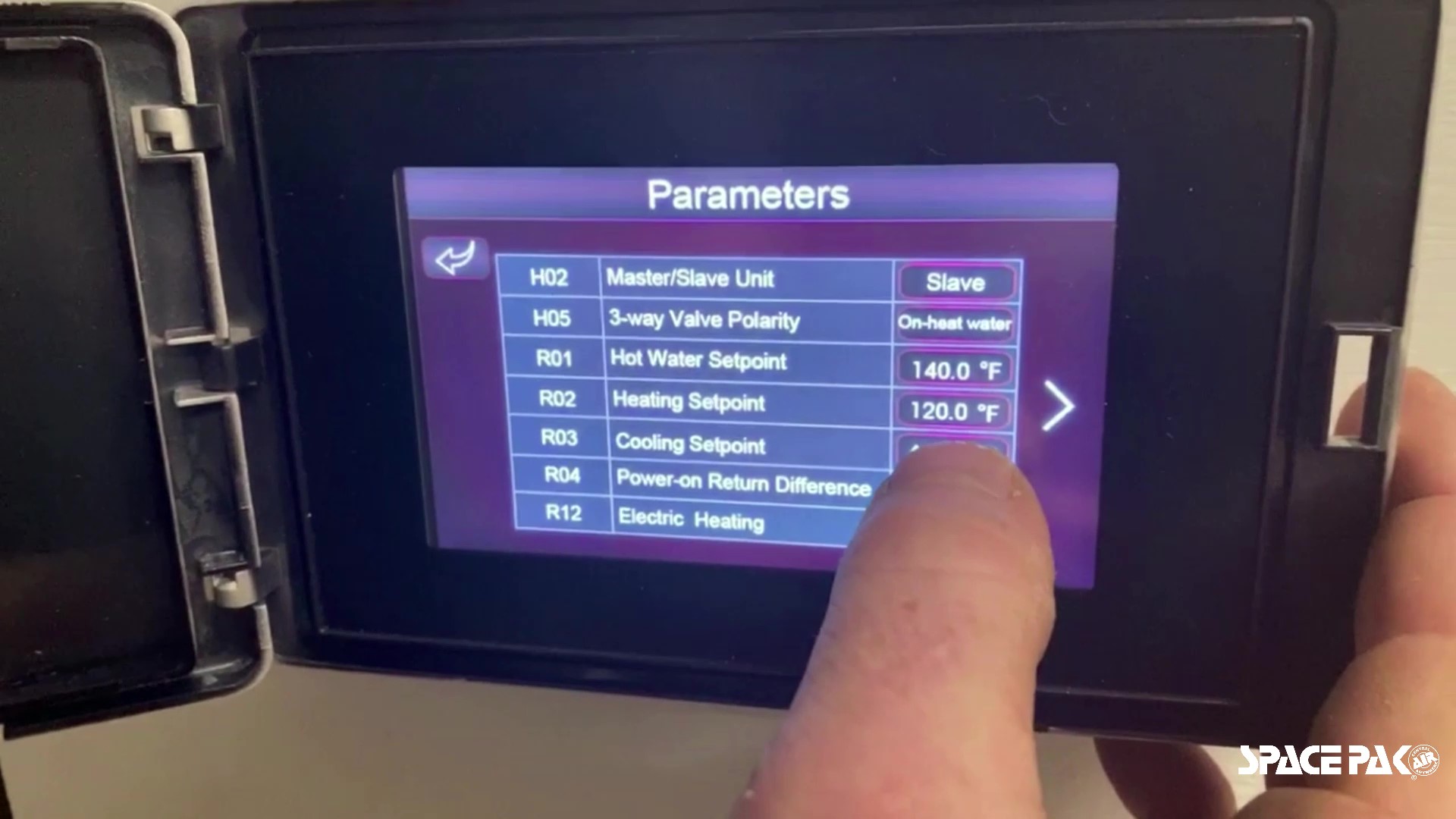 SpacePak also offers the optional SSIC module. The SpacePak System Interface Control (SSIC) module is our continuously evolving and uniquely flexible proprietary external control module that allows for multiple zone systems and takes inputs from up to five air handlers and outputs the system signals to the chiller, boiler and heat pump.
Whether radiant heating & cooling, domestic hot water offset, dehumidification, process cooling, or even conventional with multiple air handlers; SpacePak Solstice heat pumps offer application flexibility requiring less equipment outside. Units can be easily installed at ground level, on rooftops or even in remote locations up to 200ft away.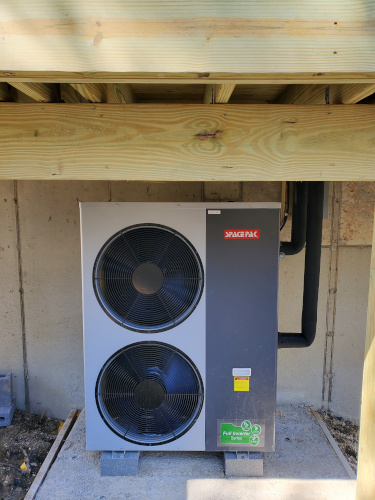 ILAHP Specifications
ILAHP Heating Performance
ILAHP Cooling Performance