Introducing, the Solstice Inverter Extreme.
The SpacePak Team is proud to officially release the latest addition to our Inverter Series line of Solstice Air-to-Water Heat Pumps. In addition to being the innovator of small duct high velocity systems, SpacePak is also the industry leader in air-to-water heat pump technology. We take great pride in being the driving force behind the adoption of air-to-water heat pumps in North America since 2011, and we're so excited to share this new technology with you.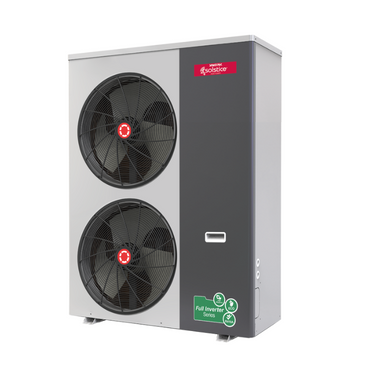 The Solstice Inverter Extreme (ILAHP48) is a revolutionary "cold climate" air-to-water heat pump for residential and light-commercial hydronic applications and decarbonization projects. A single-source solution for whole-house hydronic heating, cooling, and domestic hot water offset, without the use of fossil fuels. Full inverter-driven operation, variable-speed compressor, and enhanced vapor injection technology maintain high performance heating operation in outdoor temperatures as low as -22°F (-30°C), while delivering reliable water temperatures as high as 130°F (54°). Advanced internal control platform offers intelligent operation and precise load matching for optimized efficiencies in all conditions. Industry Leading 10-Year Compressor Warranty & 5- Year Parts Warranty for Certified Contractors. Whisper-quiet unit in a monobloc design allows for ease of installation and all refrigerant lines kept safely outside the occupied space. This unique air-source hydronic solution offers ultimate design flexibility and maximal comfort, space, and IAQ in an environmentally friendly fashion.
Email Newsletter Announcement: August 19, 2022
Product Page: Solstice Inveter Extreme
Press Release:
Product Launch Video: https://youtu.be/EJGbETmoIMc