Hydronic Heating and Cooling with Air-to-Water Heat Pumps
Why Water?
People choose SpacePak air-to-water heat pumps because they provide the highest levels of comfort and performance while consuming the least amount of energy in the most environmentally friendly fashion. They are a solution to meet the shifting needs and demand for carbon-free efficient energy sources that can provide BOTH heating and cooling for residential and light commercial settings, even in the coldest of climates.
This "air-to-water" method combines the advantages of modern air-source heat pump technology with the unsurpassed comfort and flexibility of modern hydronic heating and hydronic cooling.
With SpacePak air-to-water heat pumps you get all the advantages of a hydronic system without the use of fossil fuels, and with up to 70% less electricity than electric baseboard. In comparison to a typical high efficiency natural gas condensing boiler, SpacePak heat pumps can offer energy savings up to 47% with a seasonal Coefficient of Performance (COP) of 1.7 - 3.0.
Our air-to-water heat pumps naturally lend themselves to pairing with solar collectors, opening the doors even more for energy saving opportunities. SpacePak equipment is being increasingly incorporated into passive-solar and net-zero approaches to design and overall green building initiatives. Ultimately, SpacePak air-to-water heat pumps provide the solution for applications aiming to reduce energy consumption, energy costs, and environmental impact.

What Are Heat Pumps
Hydronic Benefits
Flexible Solutions
During the heating season, heat pumps absorb energy from the outdoor air and transfers it into your home. Even at sub-zero temperatures, outdoor air contains substantial heat that our Solstice pumps can use for central heat.
Conventional systems have to "create" the heat energy for transfer with natural gas or oil based combustion, which is a far less efficient process than an electric heat pump simply "moving" the heat energy.
Unlike other water-to-water heat pump systems, the Solstice can absorb heat from inside and dissipate it outside, leaving your home cool and comfortable.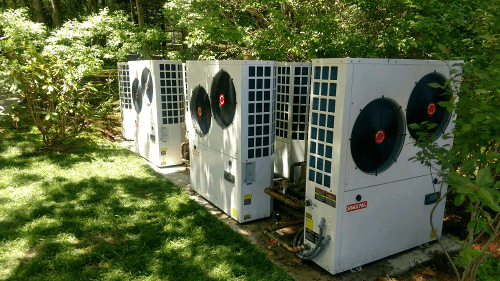 Using water as the heating or cooling medium requires significantly less energy while keeping all refrigerant outside of the home, resulting in superior performance in an ultra-safe and environmentally-friendly fashion.
Hydronic systems offer ultimate design flexibility, and allow homeowners to design a system around their specific needs, regardless of the local fuel source.
Our heat pumps are perfect for zoning, allowing multiple thermostat-driven zones to provide heat as well as cooling, exactly where and when you need it. The result? Even more efficiency and substantial cost savings.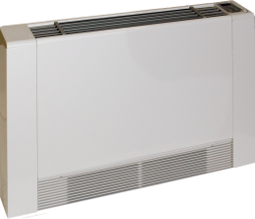 Solstice Heat Pumps can easily integrate with other existsing systems, making it a perfect choice for remodels or new construction with limited space.
With a compact design, the Solstice can be installed at ground level, on rooftops, raised platforms, or under decks.
Unlike traditional refrigeration systems, utilizing water for the transfer of energy allows our heat pumps to be in mounted in remote locations far away from the building.
Solstice Heat Pumps can match with SpacePak Small Duct High Velocity Air Handlers, SpacePak Hydronic Highwalls and Thinwalls or take advantage or radiant flooring and low temp baseboard application.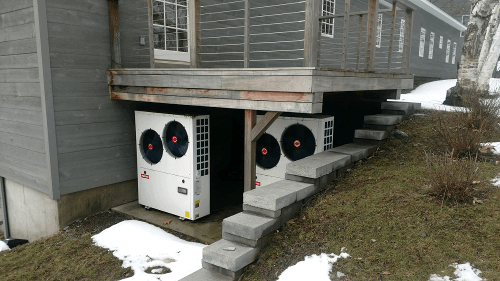 Hydronic Heating & Cooling
Hydronic technology has long been known for providing unsurpassed heating comfort. New innovative technologies have allowed hydronic equipment manufacturers the opportunity to provide complete packaged solutions for both space heating and central cooling using the known advantages of hydronics over that of traditional forced air systems. Using the same physical properties that make water ideal for conveying heat also make it ideal for conveying cooling. Click the features below to learn more about our Hydronics technology.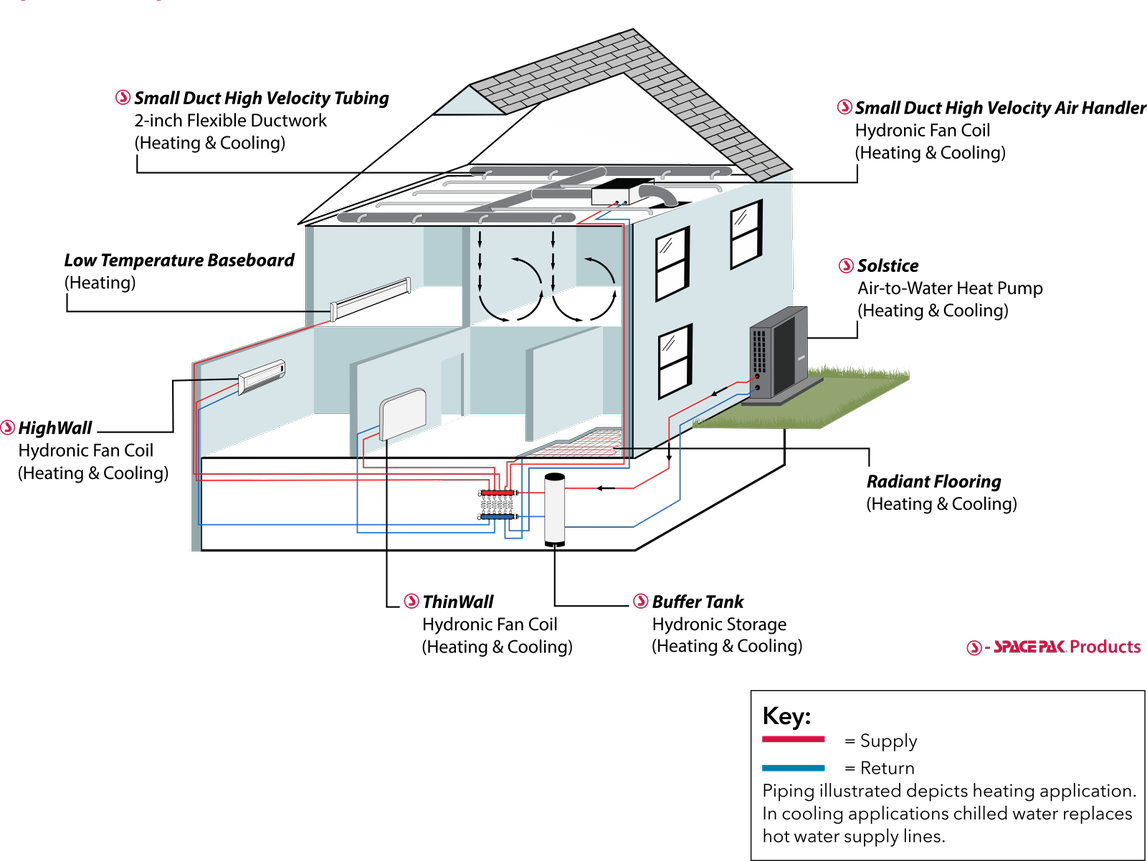 Product Summary
Standard Features
Simple Piping & Plumbing
Installation & Service Friendly
Easily Zoned
Green Hydronic Energy
Solstice® - SIM Series Inverter Monobloc Air-to-Water Heat Pump
The Solstice Inverter Monobloc air-to-water heat pump uses inverter compressors and DC driven fan motors for optimal load matching and has an advanced touch screen control for easy user interface. The Solstice Inverter Monobloc keeps all refrigerant conveniently located outside the home and is capable of low ambient cooling.
Available in 3 and 5 ton models.
SIM-036 (3 ton)
Heating Capacity Range 13,200 – 38,700 Btu/h*
Heating COP up to 5.01*
Cooling Capacity Range 1 – 3 tons*
Cooling EERup to 12.97*
&nbsp
SIM-060 (5 ton)
Heating Capacity Range 25,400 – 70,600 Btu/h*
Heating COP up to 4.67*
Cooling Capacity Range 1.5 – 5 tons*
Cooling EERup to 11.60*
*Using AHRI 550/590 Test Criteria
Standard Features
Reliable Mitsubishi Inverter Compressor
Advanced Touch Screen Control
Monobloc Design (No On-Site Refrigerant Charging)
All Refrigerant is Kept Outside
Low Ambient Cooling
Freeze Protection
Low Amp Draw with Ultra Quiet Operation
See Technical Library for more information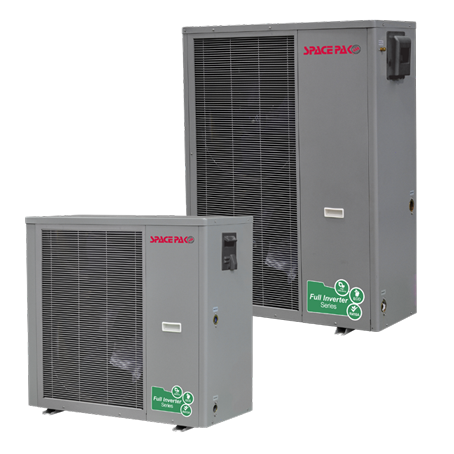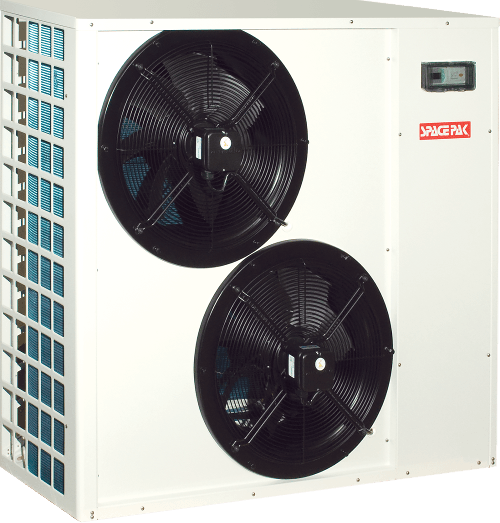 The Solstice Extreme provides primary heating and cooling even in severe weather climates.
Standard Features
Enhanced Vapor Injection allows for low ambient heating application
66,480 BTU/h at 47F Ambient
3.3 Ton of Cooling at 95F Ambient
Proven Integrated Control
Outdoor Reset
The SpacePake Solstice Extreme Air-to-Water Heat Pump has been awarded the U.S Environmental Protection Agency's 2019 ENERGY STAR Emerging Technology Award. This award from the EPA aims to advance promising technologies by recognizing innovative products that have the potential to significantly reduce greenhouse gas emissions. This award is a symbol of the environmental leadership role SpacePak has been spearheading since introducing air-to-water heat pumps to the North American market in 2011.

Solstice® - SIS Inverter Split System
The Solstice Inverter Split System air-to-water heat pump is capable of high performance in heating mode at low ambient temperatures. In other words, it is an extremely efficient cold climate air-source heat pump. Its' split-type construction provides installers with the flexibility to eliminate the use of glycol in the hydronic loop and the convenience of simple piping similar to typical residential wall-hung boilers.
Available in 5 ton model.
SIS-060A4 (5 ton)
Heating Capacity Range 20,500 – 71,500 Btu/h*
Heating COP up to 3.09*
Cooling Capacity Range 2.5 – 5.2 tons*
Cooling EERup to 12.5*
&nbsp
*Using AHRI 550/590 Test Criteria
Standard Features
Reliable Panasonic EVI Inverter Compressor
Simple Piping Similar to Wall Hung Boilers
Designed for High Performance in all Temperature Ranges
Heating Performance down to -20°F
SIS System Includes both Indoor and Outdoor Units
Split Design Provides the Flexibility to Eliminate the Use of Glycol in the Hydronic Loop
User Friendly Touch Screen Control
See Technical Library for more information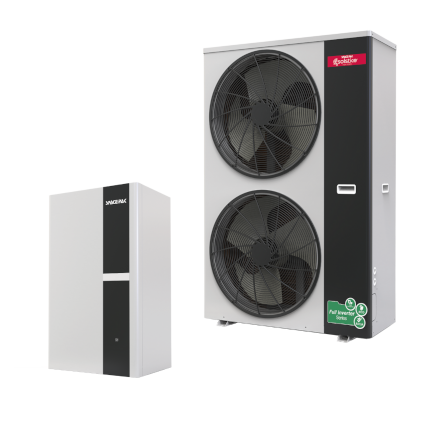 System Comparison
SpacePak Solstice Air-to-Water Heat Pumps
Up to 30%-50% lower installation cost when compared against Geothermal systems.
Little-to-no outdoor excavation needed.
Low Amp Requirements
Keeps refrigerant outside the home and utilizes a condenser coil that is 30% larger than standard units, improving efficiency.
Allows custom control not obtainable by most traditional refrigerant-based systems.
Utilizes adjustable water flow, water temperature, and airflow settings, giving you complete control of the system and each temperature zone.
Features an intelligent factory-configured control platform, with a self-diagnostic microprocessor that keeps your system running seamlessly.
Geothermal Water-to-Water Heat Pump
Water-to-water heat pumps, or geothermal heat-pumps, work by installing multiple "earth loops," or water lines, throughout your front yard.
Expensive to install, especially if vertical bore holes are required for the earth loop, or if you're connecting multiple earth loops to the heat pump.
Most water-to-water heat pumps can only heat your home, but have limited cooling capabilities.
Horizontal earth loops require large land areas and major excavation, and most jobs require re-landscaping your yard.
Depending on your region, drilling may be necessary for installation.
While most geothermal heat pumps claim to be highly efficient, this usually doesn't include the power required to move flow through the earth loop, which can be substantial.
Case Studies
A Compact Design
The historic First Presbyterian Church of Lancaster, PA needed to replace two 50 ton chillers. Limited area surrounding the building presented extreme challenges in getting a large unit to the roof. Instead of renting a crane and shutting a street down, the Solstice's compact design made it possible to take the 21 Solstice SE Heat Pumps up the church's elevator to the roof and provide the 105 tons of heating and cooling demanded.
-J & G Heating and Air Conditioning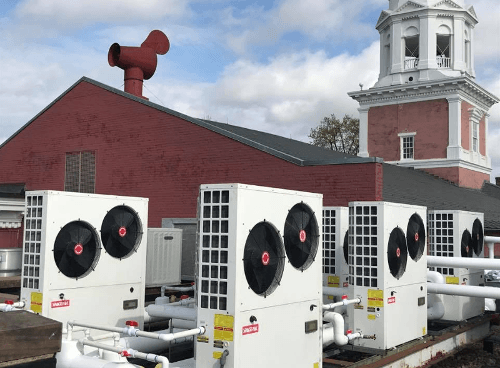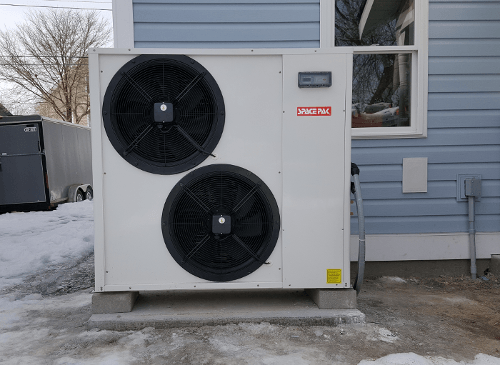 Creating an Affordable, Energy Efficient Home with Habitat for Humanity
This year, SpacePak teamed up with the Rutland, Vermont chapter of Habitat for Humanity in support of their most recent project to build a new and highly energy efficient home for a family in need of affordable housing. Efficiency Vermont, the state's objective advisor on saving energy through efficiency, identified SpacePak's cold-climate-tested air-to-water heat pump as the ideal solution to deliver affordable heat energy to the home's hydronic heating system. The house was also equipped with radiant tubing in a concrete slab on the first floor, and baseboard tubing on the second floor. The system consists of two zones, each controlled by a separate thermostat on each floor, allowing the family to program the home's temperature settings and further reduce their utility bills.