SpacePak is exhibiting at the Better Buildings by Design Conference 2022 in Burlington, Vermont on April 27th - 28th
We'll not only be introducing a brand new heat pump to our inverter series of Solstice air-to-water heat pumps at this show but we'll also be holding a raffle for this very unit! The Solstice Inverter Extreme also referred to as the ILAHP.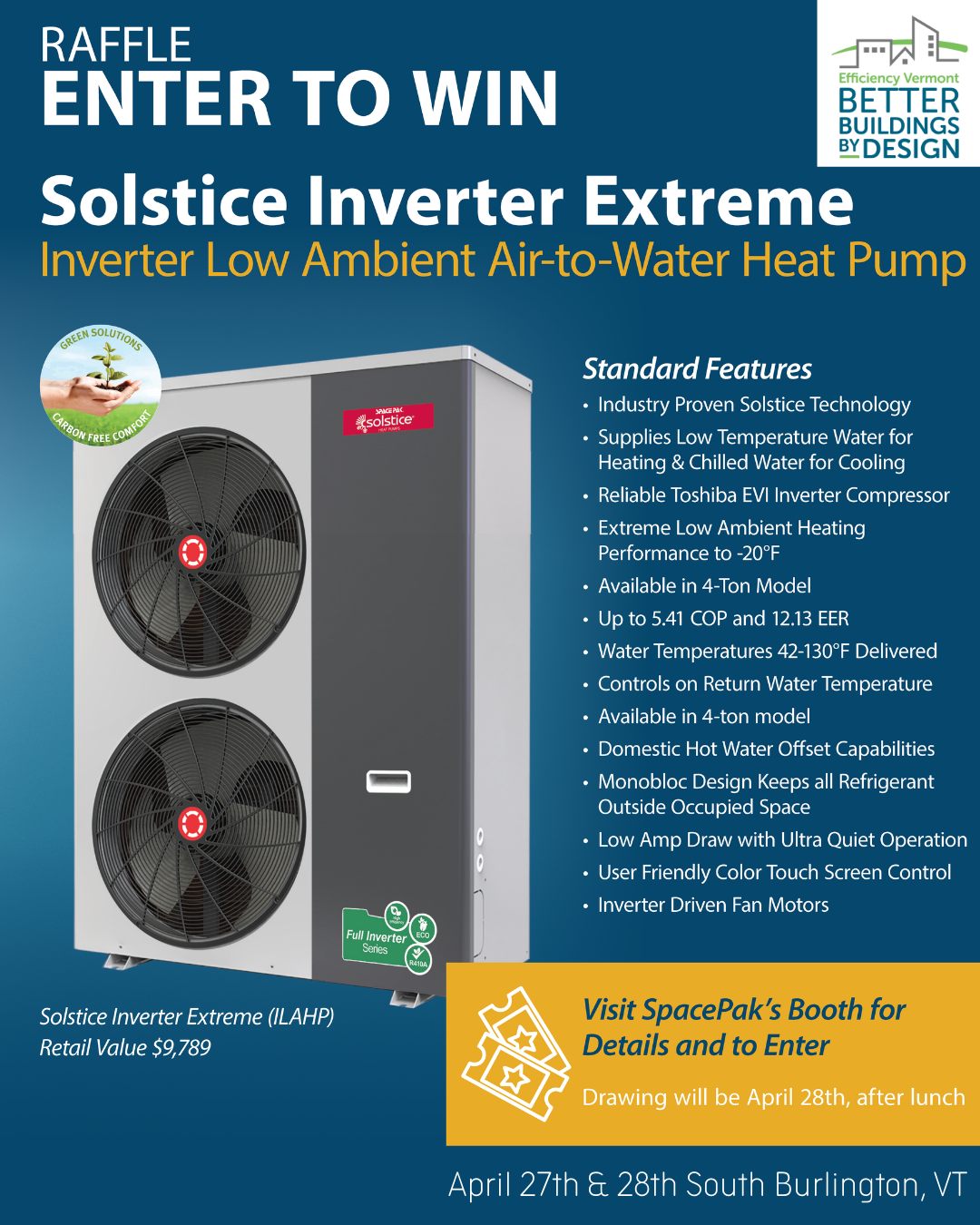 NOTICE: This highly anticipated unit is not available to order just yet BUT an official product launch alongside all associated documentation and literature will take place very soon, like over the next couple of weeks.
Solstice Inverter Extreme Low Ambient Air-to-Water Heat Pump
Utilizing industry proven Solstice technology, the Solstice Inverter Extreme (ILAHP) is a low ambient or "cold climate" air-source heat pump capable of extreme low ambient heating performance down to -20°F.

The monobloc design makes it a self-contained unit that keeps all refrigerant conveniently located outside the occupied space.

Standard Features
• Industry Proven Solstice Technology
• Supplies Low Temperature Water for Heating & Chilled Water for Cooling
• Reliable Toshiba EVI Inverter Compressor
• Extreme Low Ambient Heating Performance to -20°F
• Available in 4-Ton Model
• Up to 5.41 COP and 12.13 EER
• Water Temperatures 42-130°F Delivered
• Controls on Return Water Temperature
• Available in 4-ton model
• Domestic Hot Water Offset Capabilities
• Monobloc Design Keeps all RefrigerantOutside Occupied Space
• Low Amp Draw with Ultra Quiet Operation
• User Friendly Color Touch Screen Control
• Inverter Driven Fan Motors

Solstice Inverter Extreme Retail Value: $9,789.00
THE CONFERENCE
Better Buildings by Design is the region's premier design and construction conference, this annual not-for-profit conference sponsored by Efficiency Vermont brings together top talent in building technology and design from across the country, and helps keep Vermont-area professionals at the forefront of their fields: https://www.efficiencyvermont.com/trade-partners/bbd
This year's conference theme is PATHWAYS TO DECARBONIZATION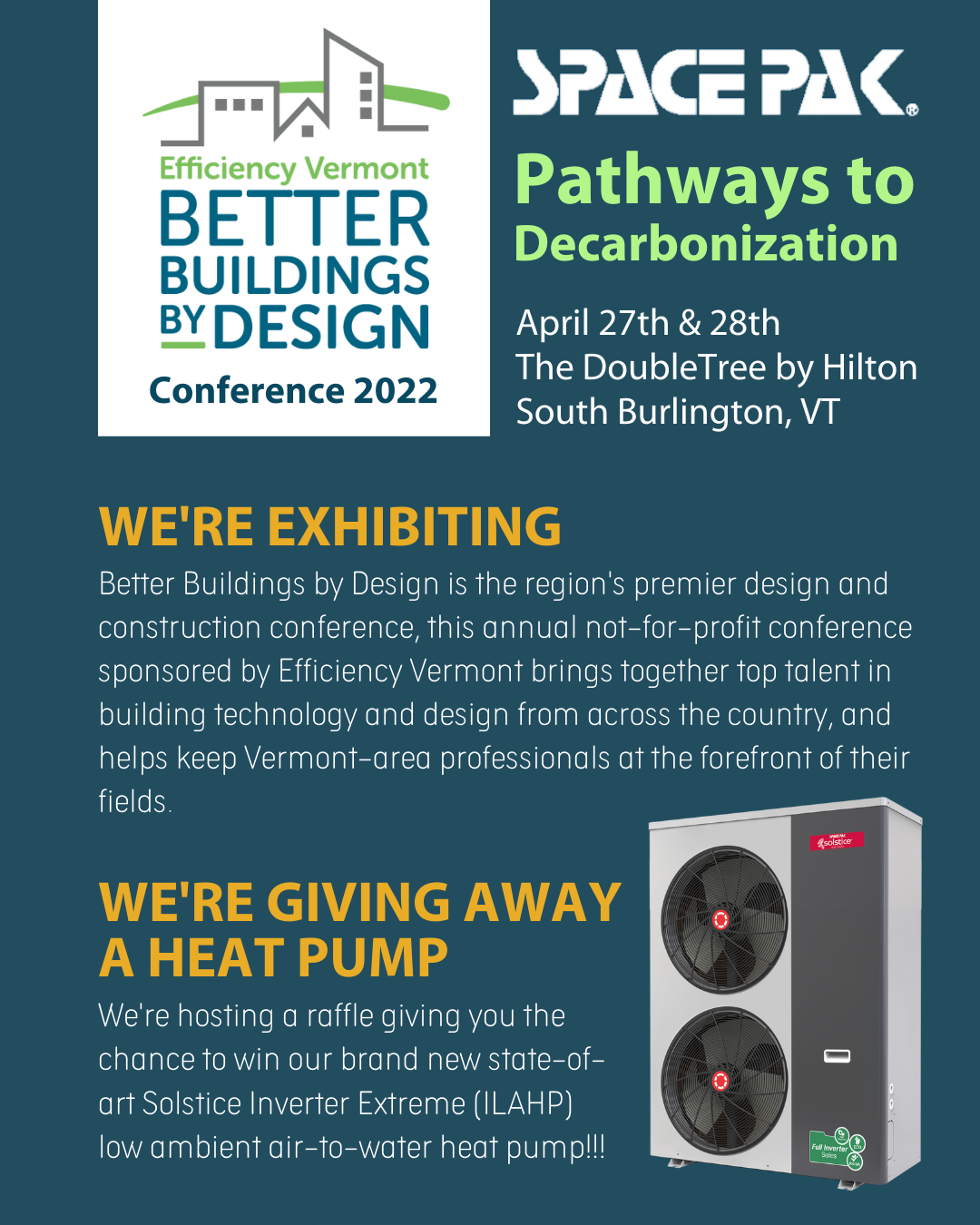 THE RAFFLE
Visit our booth in person for full details and to participate.

View: Raffle Terms & Conditions
SpacePak Lunchtime Session with Jim Bashford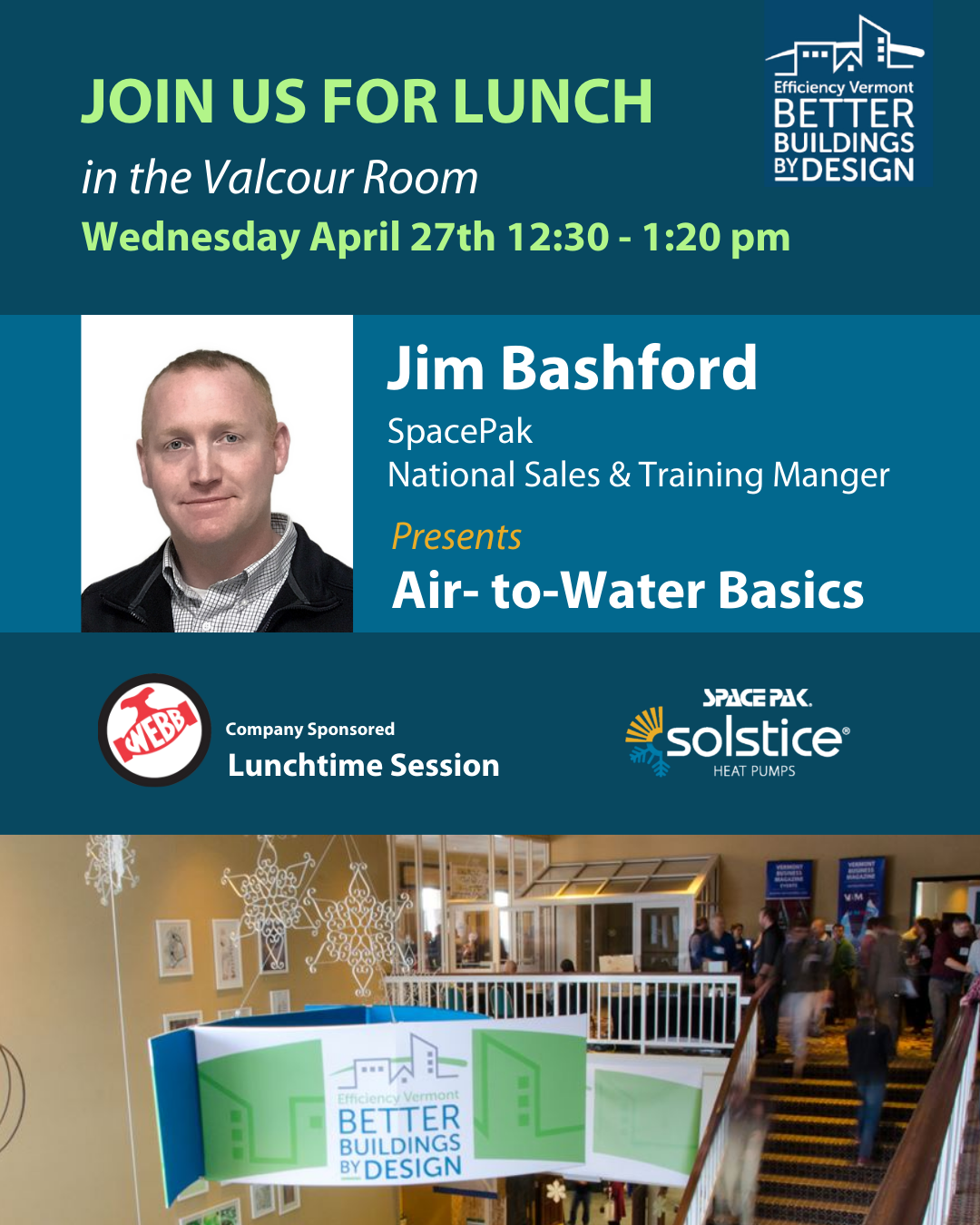 Air-to-Water Heat Pump Rebates through the Conference Host Efficiency Vermont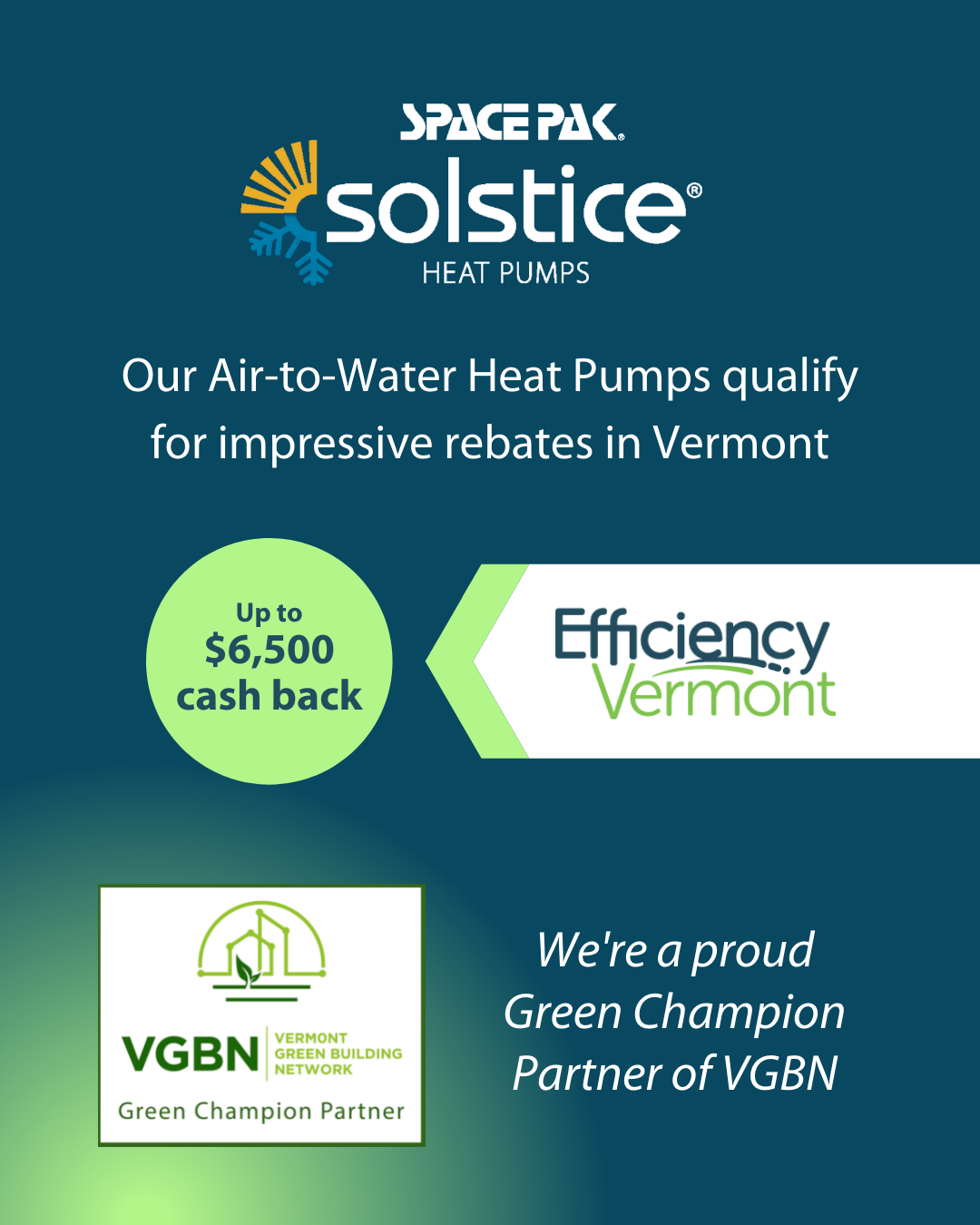 Link to Vermont rebates: https://www.efficiencyvermont.com/rebates/list/air-to-water-heat-pumps
So many session topics are all about Air-to-Water!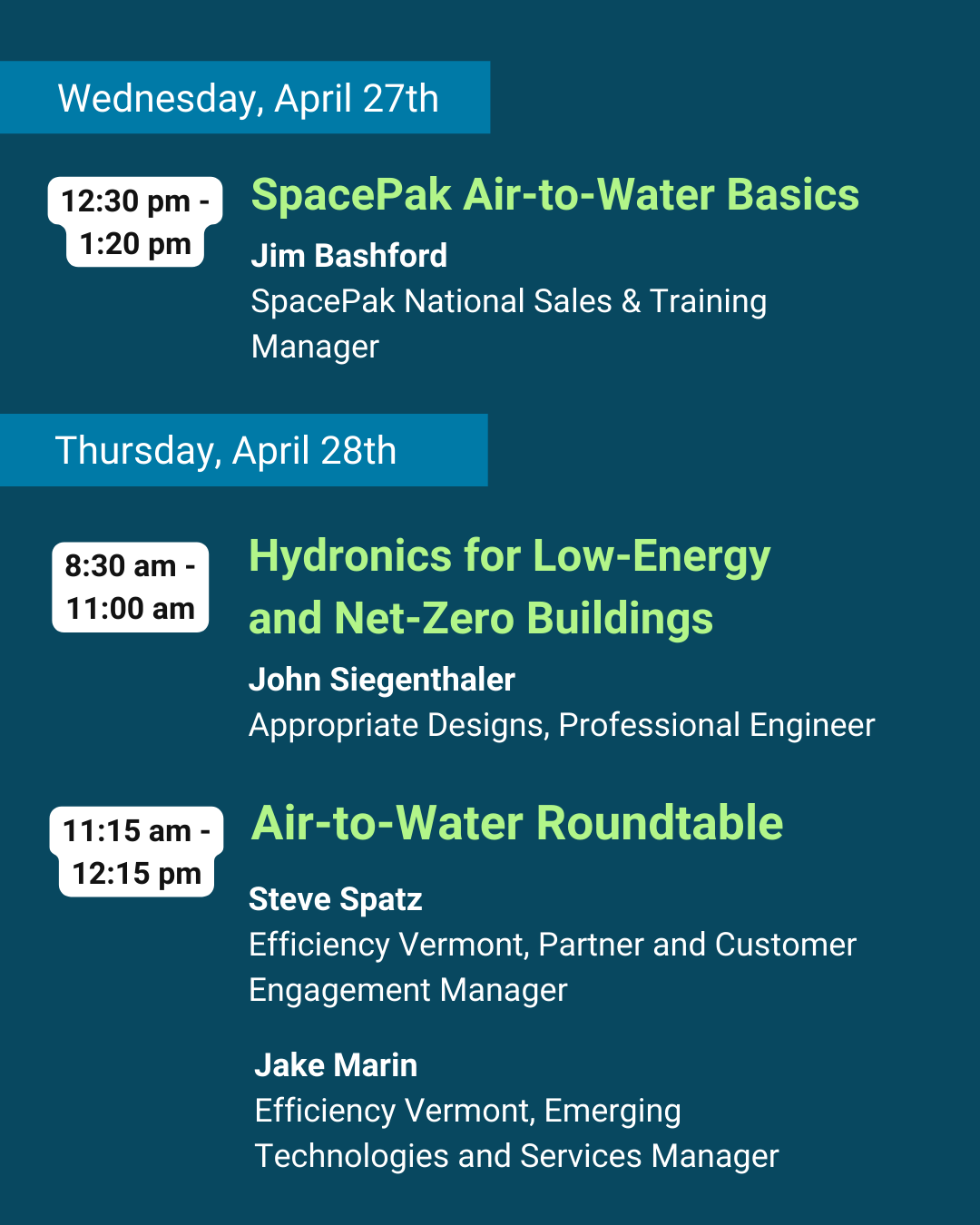 Link to Conference Agenda:https://www.efficiencyvermont.com/trade-partners/bbd/better-buildings-by-design-agenda